Understanding Anxiety
How anxiety affects you and how your body behaves is a different experience of each of us. A good way to help you feel more in control of your anxiety is to learn how to recognize and acknowledge the early signs and symptoms.
Negative thoughts
Not wanting to go out or socialise
Avoiding people
Going to the toilet a lot
Not being able to sleep at your usual bedtime
Emotional Overload – feeling angry, sad, disappointed, frustrated, desperate
Overeating, or under eating
Feeling the need to be more physical to express frustration
Feel like you are choking
Thoughts about death, or losing someone close to you
Feeling sick, tummy pains
Headaches
Feeling dizzy
Defensive or Argumentative
Shaking
Heart beating fast
Sweating, or feeling unusually cold
Panic attacks
Perception
What you think you see, feel and believe – Anxiety kidnaps your senses, it blinds you with fear and blurs your understanding of the situation. It makes you believe the worst, it doesnt allow you time to think rationally and makes your fears seem real. There is no time to challenge your thoughts, as you are fighting anxiety's perception of a threat.
Triggers
Everyone is different – and knowing what makes you feel anxious (triggers) will help you to better understand how to manage your anxiety. Some triggers will be obvious, but some times you will feel anxious and not know the reasons why. By recognising these triggers, you will see the signs and symptoms early, which puts you back in control.
Behaviours
Knowing how your thoughts affect your actions, that affect your behaviours - is the key to making positive change. A good way to help you feel more in control of your anxiety is to learn how to recognize and acknowledge the early signs and symptoms.
How I helped my son overcome Anxiety
I witnessed his behaviour – crying, shouting, wringing his hands, going to the toilet – and helped him to see that this was happening, as it was hard for him to recognise his anxious behaviour. But his behaviour is the end of the process – the result of the thoughts and emotions, what he was thinking and feeling. Initially it was difficult for him to see this was going on, so we worked backwards through this process to change the pattern.  Every time he was afraid, he would have negative thoughts which resulted in panicked behaviours.

To address this, we needed to work out what the triggers were, and remember that there are choices at every step of this process. To begin with, we used experiences that he could recall where he felt anxious, and looked back to see where the choices were available to him.
This helped to establish new patterns where they are able to access each situation that normally results in a anxious behaviour, as they can understand this process and the different choices available to them which disrupts the outcome.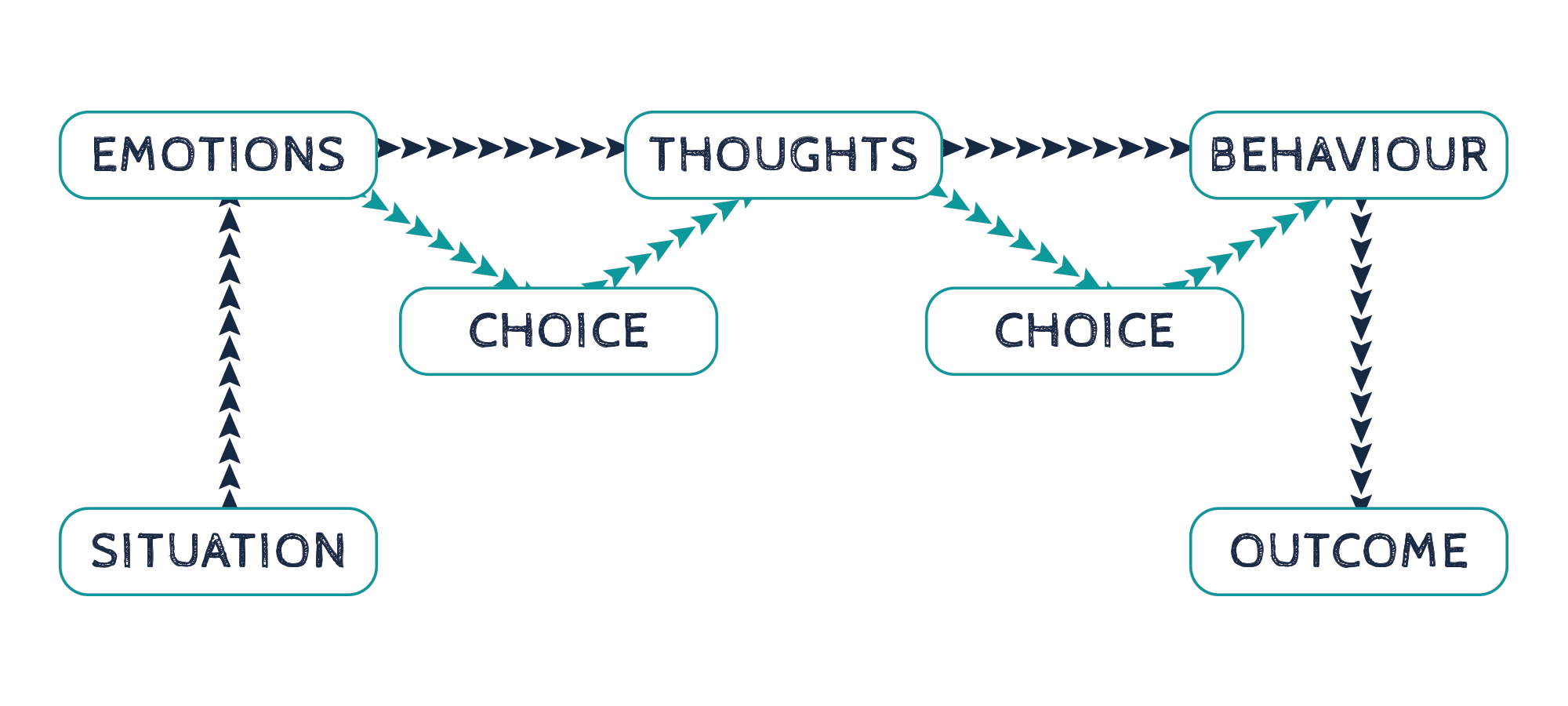 When I discovered that my son had anxiety, it wasn't a shock. But I was disappointed that up until that point, I hadn't recognise it myself. He had been born with anxiety – a traumatic pregnancy and  birth, and had lived this way for his eleven years.
Helping him conquer his anxiety was so empowering – to get a child of 11 from a point where he was having several panic attacks daily, to be in control and not be restricted by anxious emotions that previously stopped him from enjoying events, travelling, and new experiences.  
Beating Anxiety with coaching
I am passionate about the impact coaching can have.  I believe it can not only help manage mental health, but conquer the problem.  Being able to conquer it, you can understand where its come from and be able to get rid of it. 
Anxiety is really complex, and it feel impossible to change or challenge it.  Lots of people come to accept that anxiety is part of their everyday life, and they have to learn to live with it. 
But it doesn't have to be like that, you have a choice. You can take action to change and even conquer your anxiety and depression. By saying yes to coaching, you can make the impossible possible, and you can get rid of anxiety.
Through using my coaching model, and completing my coaching programme I want to give parents, children and adults the power to conquer their mental health. My son is free of any kind of anxiety or panic attack.
You really do not have to live in a constant state to fear.